ALWAYS UNITED AT THE GOAL
The first accessories and spare parts shop of the best brands for sailboats and motor boats in Friuli-Venezia Giulia Italy. Located in an area with a historic vocation for fishing and for the amateur sports association of the regional canoe center of San Giorgio di Nogaro. the Company is a large commercial reality that is always in step with the needs of a constantly evolving market. Solid territorial roots, safe and guaranteed quality, wide range of products at the best prices, efficiency of service and delivery times are the factors of absolute excellence that Nautimarket Europe has made available for well over 35 years of experience in the yachting sector and boat equipment.
We carry over 50,000 state-of-the-art accessories, spares and tools, in the technological field through our Nautimarket Europe shop and the Nautimarket-Europe.com and Nautica.ws website platforms. In addition, we are active in the renewable energy sector both in our store and through the TopSolar.ws website.
Nautimarket-Europe.com and Nautica.ws are today leaders in Italy in the online nautical sector, displaying the sale on online platforms of nautical accessories of the best, most popular and reliable brands in the world.
Our specialized and dedicated sector to boating for pleasure, where you can find all the marine accessories and spare parts for your boat; from anchoring and mooring: Azarta, Fortress, Hall, Danforth, Delta, Toro, Lewmar, Trefoil anchors; Galvanised Genoese chains, galvanized and stainless steel calibrated chains; stainless steel bollards; Armare Ropes ropes with a wide range of technical nautical ropes, for sailboats and engine boats of any size, to the wide range of Sailing accessories such as Blocks, Lifelines, Rigging, Clamcleats, Stoppers, Elastics, Straps, Flags, Awnings, Canopies, Turnbuckles. There are so many accessories that must be present on any self-respecting boat. Here are the accessories that cannot be missing on your boat: the life jacket for the recovery of the man overboard. When a person falls overboard, precise maneuvers must be performed in a short time: the lifebuoy must be thrown into the water, the engine started, a waypoint fixed as soon as possible and emergency communication carried out on channel 16.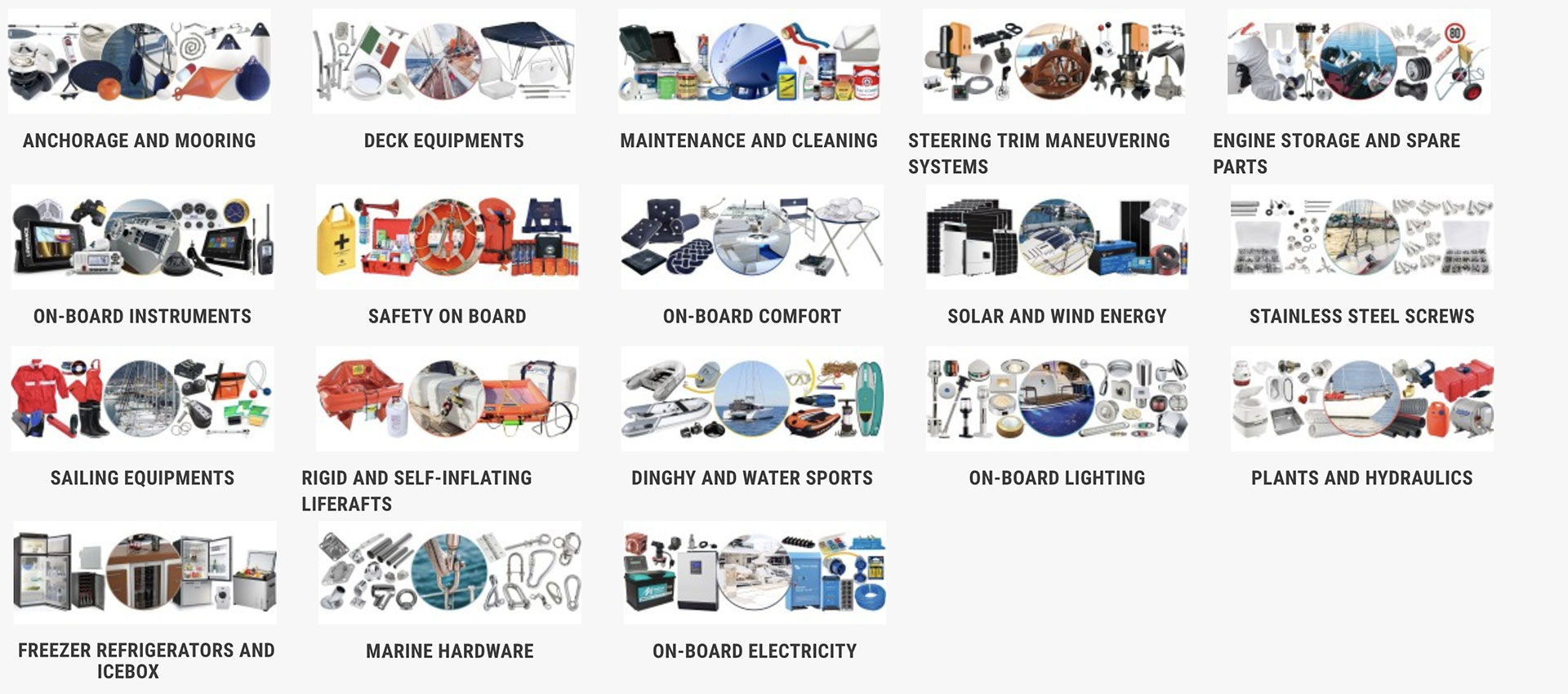 As is well known, the regulations relating to nautical items which must absolutely be present on a boat are divided into eight categories, based on the sailing distance of the relative boat. We therefore speak of different rules for those who sail without any limit, or within 50 miles, 12 miles, 6 miles, 3 miles or one mile. Also added are the life raft, luminous buoy, smoke buoy, compass, hand fires, parachute flares, sound signals and the Cobra Marine or ICOM marine VHF radio.
Furthermore, browsing online you can find many other interesting items in departments such as: Deck equipment: oars, ladders, portholes, seats; Onboard Comfort: refrigerators, stoves, crockery, pumps; Boat maintenance: antifouling, paint, hull, cleaning, boat care; Electronic Instruments: Lowrance and Raymarine electronics, compasses, binoculars, antennas; Hardware: carabiners, shackles, eyebolts, hinges, screws; Wheelhouses: controls, rudders, flaps, bow; Tableware, Interior furnishings.
Our goal is to offer our customers a wide range of products for all needs from spare parts to repairs on sailing or motor boats from smaller boats to large yachts. This is why our offers are always up-to-date and complete!