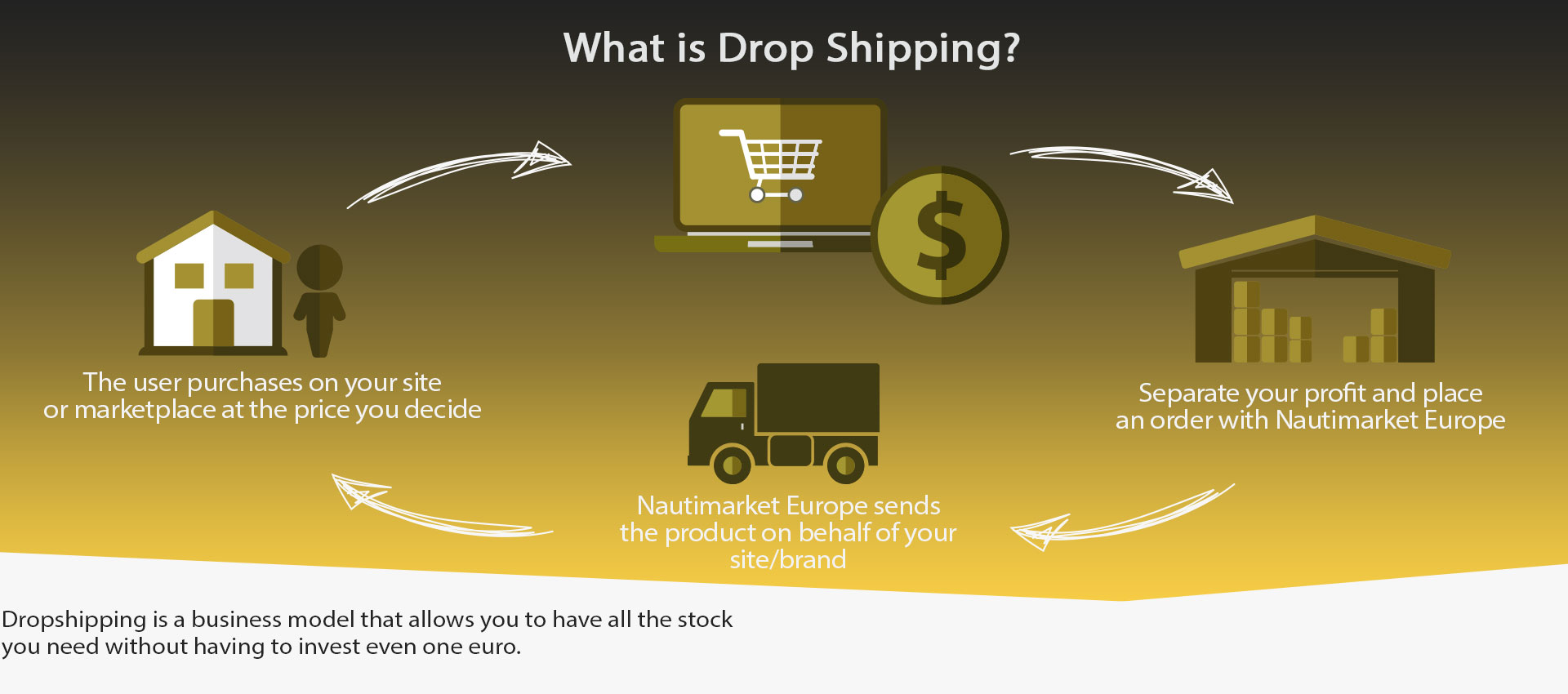 Thanks to highly experienced staff and recognized by most of our customers and suppliers, we now want to start the experience in the development of the Dropshipping platform with more than 20,000 high margin references.
We have a wide range of products that are constantly being updated. Our main product categories are: accessories for boating and leisure, renewable energy and LED lighting.
How does the dropshipping service work?
Dropshipping is a business model that allows you to have all the stocks of Nautimarket Europe and connected producers available without having to invest even one euro.
Therefore you only buy what you have already sold and serve your customer without thinking about shipping the products, which Nautimarket Europe will take care of in a totally anonymous way.
You can sell products on your ecommerce or create a new one, or sell in marketplaces like Ebay and Amazon etc. No financial risk, you will only buy what you have already sold, and taking the sales margin due to you.
You will be given the "dropship" price list, with super advantageous purchase prices, you can choose the margin to apply to the products at your discretion, you can choose to insert all the items you want.
You can rely on all the goods in our warehouses, in the warehouses of our suppliers, including items that can be ordered.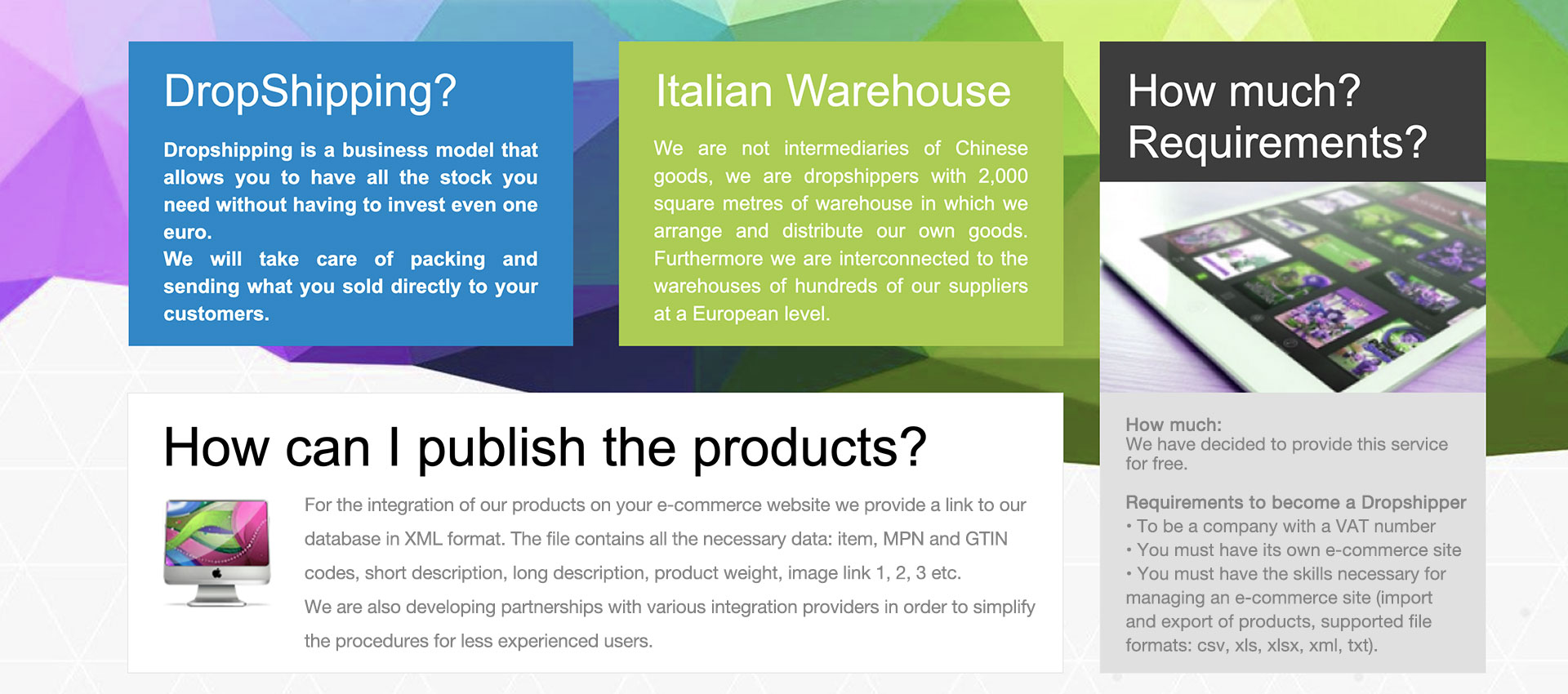 How do I insert your products?
We provide you with various data feeds in xml or excel format with which you can import our products on your ecommerce website. We are also working on important partnerships with third-party developers for automatic publication on various marketplaces.
And if a customer cancels the order, or wants to return the purchased goods?
Do not worry, Nautimarket Europe also applies to the dropshipper the possibility to return the order within 14 days of shipment provided that the product is returned intact in all its parts including the packaging that must not for any reason be used as a shipping box (the products with their own box are always inserted in an additional packaging box so as not to damage the original product box during transport). Only made-to-order or custom-made items cannot be returned once ordered.
And delivery times?
We generally ship by express courier within 5-7 working days except for items assembled to order, (windlass, thrusters, refrigerators and a few other products whose shipping time is around 15-60 days or so. About this you will receive detailed instructions on delivery times in the dropshipper account activation e-mail.
Payments?
Payments must be made by Paypal or bank transfer, better if instantaneous to speed up the procedure. The order is confirmed only upon receipt of payment.
Shipments?
They take place through express couriers selected by us. In the event that the customer dropshipper wants to ship by his own courier, he can select the option when ordering. This page lists the shipping costs that we have agreed with our couriers.
How much does all this cost?
Nautimarket Europe offers this service free of charge, to date we manage more than 14,000 references in constant growth as we have various logistical integrations in progress with our suppliers from different product sectors.
How do I get active?
To become a dropshipper, all you have to do is sign up for nautimarket europe as a regular customer by filling in the COMPANY, PI CF AND ELECTRONIC INVOICE CODE fields. Once this is done, send an email to: dropshipping@nautimarket-europe.com requesting the application of the dropshipping price list (in the email, please give a brief description of the company).
Subscribe now to this link:
https://nautica.ws/gb/login?create_account=1
REGISTER AND ALSO FILL IN SHIPPING ADDRESS, COMPANY, VAT NUMBER, SDI OR PEC
(After registering with name and surname and email/password, from logged in, click on Addresses, create new address and fill in all the company data requested above).
Then, as soon as done, write an e-mail to: dropshipping@nautimarket-europe.com asking to become a dropshipper, attaching:
- CAMERAL REGISTRATION (not older than 3 months)
- LINK TO YOUR E-COMMERCE SITE (which shows us that you are an online retailer)
Note: No dropshipper accounts will be activated for sites that are still to be built.