TopSolar Hybrid Inverter ALL in ONE 3000VA 2.4kW 24V MPPT 50A
TopSolar Hybrid inverter 2,4Kw 230V AC with MPPT 24V 50A 1200W solar charge controller and AC input for emergency generator. Priority use of renewable energy sources and automatic exchange with generator or power grid in case the batteries are dead.
LOT COMING MAY 10, 2023, BUY NOW LIMITED QUANTITIES AVAILABLE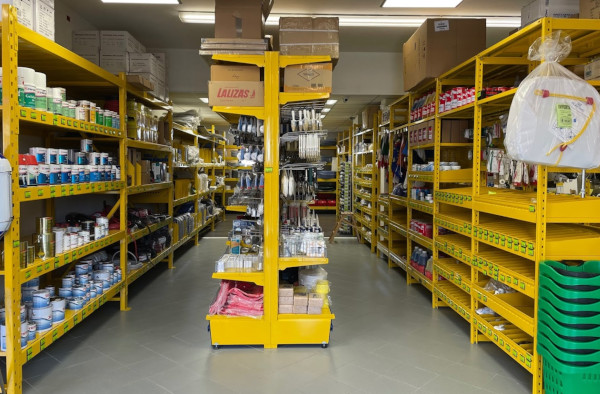 Visit us in our shop
WE ARE AT YOUR DISPOSAL AT OUR POINT OF SALE
Not just online! Come and visit us also in the shop!

In our store you will find a wide selection of selected items and you will be assisted by our specialized staff with over a decade of experience in the nautical sector.
Everything for the boat ... deck equipment, anchoring and mooring, hydraulic and electrical systems, photovoltaics, stainless steel hardware, antifouling and paints, engine spare parts, on-board safety, sailing accessories, nautical instruments, GPS, depth sounders and much more!

We are in San Giorgio di Nogaro in the province of Udine, an important basin, located in the Bassa Friulana, bathed by the Corno river ... a few km from well-known destinations such as Lignano, Grado, Trieste etc.

Nautimarket Europe s.r.l., Via Marittima 17, 33058 San Giorgio di Nogaro (UD) Italy
TopSolar 2.4Kw 230V AC Hybrid Inverter with MPPT 24V 50A 1200W solar charge controller
LOT COMING MAY 10, 2023, BUY NOW LIMITED QUANTITIES AVAILABLE
This inverter with display enables the realization of an OFF GRID photovoltaic system of up to 2,4Kw to recharge a 24V battery bank and the use of 230V alternate current with 230V AC supplementary input for emergency generator or grid supplier. The ALL in ONE inverter is the simplest way to realize a stand alone PV system with automatic switch with the grid (or emergency generator), all the components that usually make up a classic stand alone photovoltaic system (charge controller, inverter, emergency unit and battery chargers). With this inverter you may use renewable sources, hence solar energy, battery stored energy and only in the absence of these two renewable sources, the inverter automatically switches to emergency AC input of the generator or grid supplier. This system allows maximum cost saving in your electricity bill or even eliminating the connection to the grid.
The ALL in ONE inverter was designed to remain active 24 hours a day because thanks to its use in standby of only 2W it does not discharge the batteries even if it remains switched on without loads being applied. It is to be noted that the Cold Start function allows turning on even without AC current and as such in 100% OFF GRID mode and furthermore in AC mode in the absence of current the inverter will start automatically.
Main features

• Pure sinewave 
inverter.
• Built-in MPPT solar charge controller
.
• Selectable input voltage range depending on the applications.
• Configurable AC/Solar input priority via LCD setting.
• Compatible to mains voltage or generator power.
• Automatic start in the absence of AC current.
• Cold start function (Start up even with DC battery voltage).
• Smart battery charging design to optimize battery performance.

INVERTER OUTPUT:
- Rated Power: 3000VA/2400W;
- Surge Power: 6000VA/4800w;
- Waveform: Pure sine wave;
- AC Voltage Regulation (Batt.Mode): 230VAC±5%;
- Inverter Efficiency (Peak): 93%;
- Transfer Time: 10ms (For Personal Computers) 20ms(For Home Appliances).
AC INPUT:
- Voltage 230VAC;
- Selectable Voltage Range: 170~280VAC (For Personal Computers) 90~280VAC (For Home Appliances);
- Frequency Range: 50Hz/60Hz (Auto sensing).
BATTERY:
- Nominal voltage: 24 VDC;
- Floating Charge Voltage: 27 VDC;
- Overcharge Protection: 31 VDC.
SOLAR CHARGER & AC CHARGER:
- Maximum PV Array Power: 1200W;
- MPPT Range @ Operating Voltage 30 VDC~66 VDC;
- Maximum PV Array Open Circuit Voltage: 80 VDC;
- Maximum Solar Charge Current: 50A;
- Maximum AC Charge Current: 25A;
- Maximum Charge Current: 70A;
- Maximum Efficiency: 98%;
- Standby Power Consumption: 2W.
MECHANICAL SPECIFICATION
- Dimension, WxHxD: 100x272x385 mm;
- Net Weight: 7.5 kg.
OTHER
- Humidity: 5% to 95% Relative Humidity (Non-condensing);
- Operating Temperature: 0 °C - 55 °C;
- Storage Temperature: -15 °C - 60 °C.
IMPORTANT NOTE:
The reduced VAT is reserved for PRIVATE INDIVIDUALS, end users and qualified photovoltaic and thermal energy installers or heat production INSTALLED IN ITALY. In case you do not have the right to the tax deduction (DEALERS) kindly contact us in advance so that an invoice with 22% VAT can be issued as per the law in force. In the absence of receipt of the declaration the order cannot be shipped as a copy of the VAT declaration form must by law be attached to the company invoice. The declaration form and ID document must be sent to the email address. 
After purchase, kindly complete and return the VAT declaration form together with a copy of an ID document.
2 other products in the same category: